The Importance of a Storyboard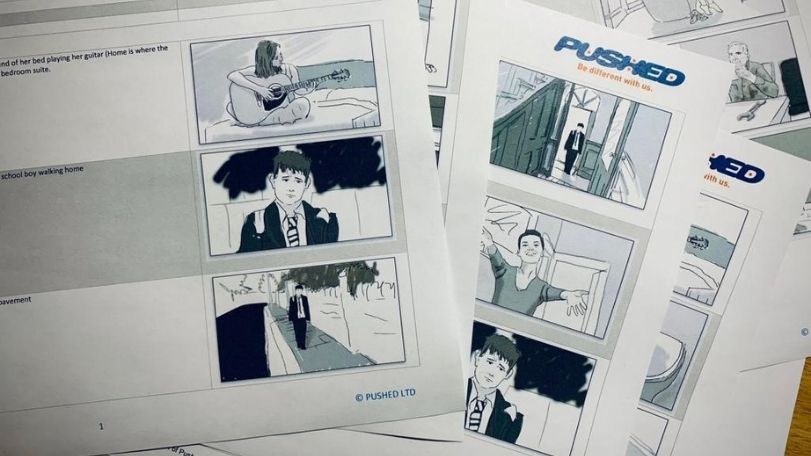 What's a Storyboard?
The importance of storyboarding - A storyboard is a visual organiser that provides a cohesive sequence of how an animation or video will work and functions as a way for members of the team to visualise the story and elements before true production begins. It consists of a series of hand-drawn illustrations and camera angles accompanied by a brief narrative that shows what will appear scene by scene in the finished product. Storyboards are normally produced in black and white and provide a simplified overview of the end goal for editorial purposes.
Storyboards give you a glimpse of what the final production will look like and how it will work – so there are no surprises! They are widely used as a form of concept-mapping throughout the digital world due to their extreme versatility and adaptability to any setting. From planning narratives and illustrations to summarising information as a way to present conceptual ideas to a team, there truly are no limits when it comes to the potential uses of a storyboard.
What is the Importance of a Storyboard?
Most people acknowledge that planning things out first helps the final product to be more cohesively developed with fewer issues occurring during production, and this principle applies to video development of any kind as well. A storyboard is the optimal format for this sort of digital planning, providing discrete ways to map out the best way to use your intended message to arrive at your desired outcome. Storyboards have been used successfully from the shortest of video clips to popular feature-length films, proving time and time again that such a simple initial step can have major returns down the line.
Storyboarding should never be skipped - it is a vital part of the process when you require an animation or video as a tool to educate, explain, promote or raise brand awareness by showcasing your product.  It may look like a summary sheet of sketches and scribbles, but this is where the foundations of your message take shape and can be tweaked inexpensively.  It forces both the client and production team to really drill down on the intended message and for the animators to consider the best route for delivery, even comparing several options side-by-side.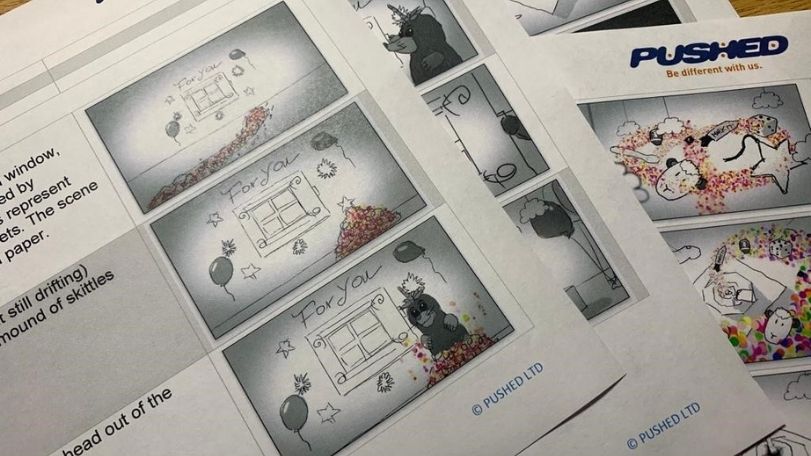 What are the benefits?
A storyboard outlines the basic concepts and details of a project so that all contributors are on the same sheet—ensuring that the content is clear and concise while conveying the overarching message in a snapshot. The format of a storyboard lends itself perfectly to the sort of rough outline that is necessary in pre-production stages, as the linear layout and simplified design allow the entire team to easily follow along in order to grasp the key details. Each element is broken into smaller, more easily digestible bits that make up each panel of the storyboard, which allows for much greater attention to detail and less distraction when fleshing out these elements later. Formatting in this manner highlights any disparities and allows the production team to assess whether the visuals and narrative flow in a way that will make sense to your audience, reducing the need and cost for later revisions of an animation. Additionally, if any discrepancies are found, the team is able to quickly reshuffle the order of the panels to make a more cohesive storyline—or even delete a panel or two altogether which prevents the future waste of resources that would occur if the scene was animated and produced first before being removed.
The next part of the process progresses the initial storyboard further and involves building an animatic using "stills" drawn for the storyboard as a slideshow to evaluate timings. A guide voice over and music can be added to help aid the development of the sequence. Storyboards also come into their own during the editing process as the editor will refer to it to arrange the shots in the correct order. They provide a clear structure for the client and animators alike and are an essential resource to ensure the production process is straightforward and unwrinkled. In this way, the storyboard is able to evolve with your project as a guide, template, and rough draft so that the finished product can be as sleek and cohesive as possible.
Take a look at our storyboard for Fairway Furniture - a filmed shoot for a TV Campaign.
Take a look at our storyboard for Life's Little Recipes - an animated E-card.
Get in Touch With Us!
We hope this blog has given you some important pointers in choosing your preferred animations company. If you'd like to know more about our services and how they can benefit your business, we're here to help! You can reach us on 01752 346507 or by email at hello@pushed.co.uk.