What Does An Animation Studio Do?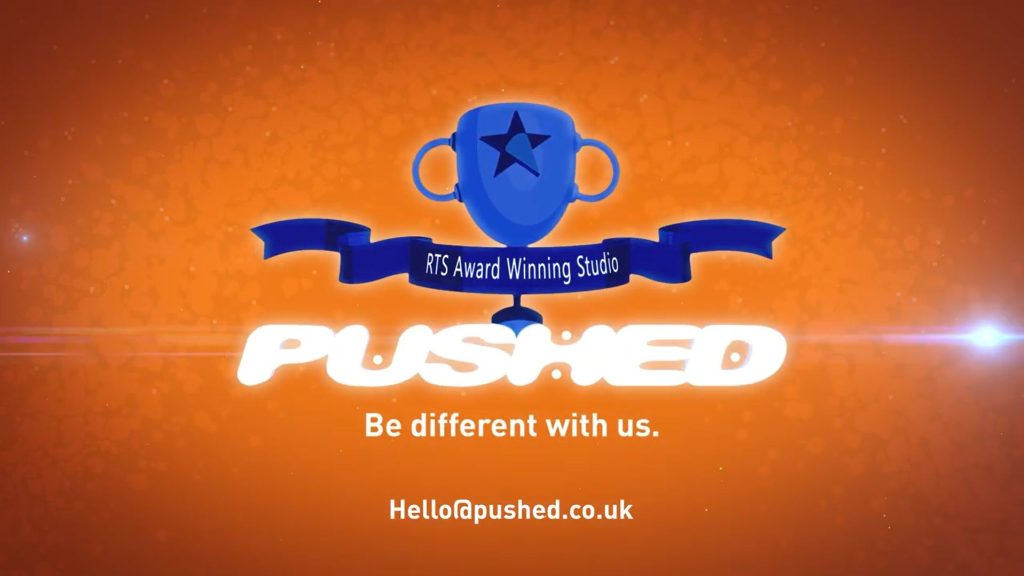 Creatively Combining Art & Technology
What Does An Animation Studio Do? There is no doubt that virtually every individual has consumed numerous forms of animated media throughout their lifetime. But have you ever thought about who creates and produces this widespread, highly skilled content? Animation studios such as Pushed house the creative minds that are responsible for envisioning, designing, and generating these videos, from media designed for entertainment to explainer videos and television commercials.
At Pushed, we are proud of our ability to creatively combine art and technology into useful and engaging videos that suit a variety of needs. As an RTS award-winning animation production studio, our team can generate any digital content that clients can imagine. Animation requires specialised technology and very tailored skill sets to produce, and animation studios house both the technology and the program-proficient artists to allow dreams to come to life on screen. For example, the team at Pushed often utilises programs such as After Effects, Premier and Illustrator to create graphics in an unlimited manner of styles through highly skilled drawings, renderings, and even multi-dimensional images.
After Effects: Adobe After Effects is a powerhouse industry-standard software that allows for the creation of impactful motion graphics and visual effects used in animation creation.
Premier: Premier is a linear editing software package that allows animation studios to perform some of the more technical and detail-oriented aspects of their work, including colour grading, correction, and rendering.
Illustrator: Illustrator is an advanced drawing software that animation studios often use to save time and enhance overall quality as they advance each animation through frames, layering details to create an engaging and visual masterpiece.
The process of creating an animation can be very long and involved, as it takes an incredible amount of attention to detail for artists working in an animation studio to craft each element of a frame, and there are often hundreds of frames in just a short television commercial.
What can animation studios produce?
When it comes to the content that animation studios are capable of, there truly is no limit. The boundless nature of animation means that the media can be used for any purpose and in virtually any manner. Some studios focus on entertainment and films, while others create characters and video games. If it can appear online, it can be animated! At Pushed, we specialise in content for television, , and online advertising. Some of the different types of videos that animation studios can produce for these purposes include:
Television commercials: with only a brief amount of time to engage audiences and convey an actionable message, animation is one of the most effective ways to get your point across in a unique manner
E-learning videos: How-to videos, corporate training, and educational platforms all benefit from animations to keep audiences engaged and communicate complicated ideas in a simple visual manner.
Corporate promos: The nature of animation creation means that frames and graphics can be re-used for future videos, making them ideal for corporate promotion videos. Recycling and updating the graphics as the current promotions change is a huge cost saving measure for businesses.
Why choose an animation studio?
Live action footage can only capture so much, while animation can be specifically tailored to your needs. Replicating real life, providing visual demonstrations of processes and thoughts, envisioning fantastical creatures or otherworldly locales, and even supplementing live action shots are all well within the capabilities of digital animation. The skills and talents of the artists working with specialised technology utilised by animation studios means that if you can dream it, it can be animated!
In short, animation studios such as Pushed create animated media that is specially curated to work for you and your business. No matter your needs, your preferred style, or your vision, animation studios can turn ideas into reality through innovation, technology, and imagination.
To see the kind of content our animation and video production studio can produce, select a category on our dedicated page. These categories include Animation, Corporate Promo, Live Action, Commercials, Social Media, Explainer Video, TV Titles and E-Learning.
Alternatively, sit back, relax and enjoy some of our finest work on our Showreel page.